CPAA NEWS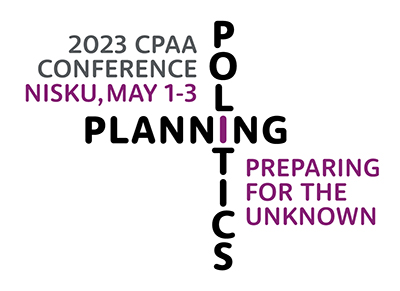 Preparing for the Unknown:
The Intersection of Planning and Politics:  
May 1-3, 2023 
Holiday Inn & Suites Edmonton Airport and Conference Centre, Nisku, Alberta
CPAA Strategic Plan
The CPAA Board held their annual Strategic Retreat in June. We are very proud of the work, progress and goals the Directors put forward and committed to for 2022-2023.
Expect to receive timely communications, conference and award updates throughout the year. The Board looks forward to meeting with the faculty and students at the University of Alberta, University of Lethbridge and the University of Calgary.